October 26, 2017
Revival breaks out in Tanzania
September 2017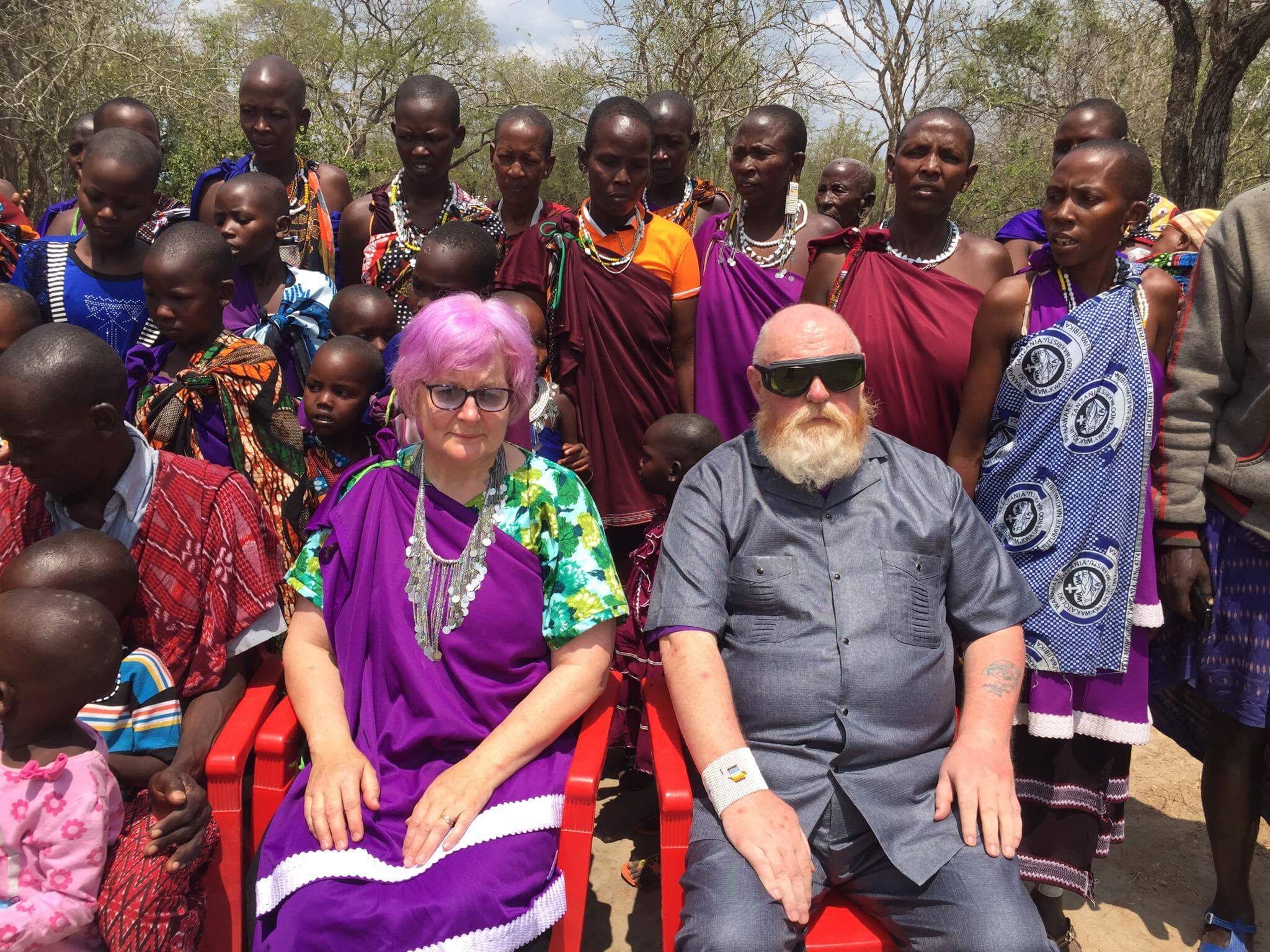 Heather and I have been in Tanzania on this trip for just under 4 weeks now. During this time, we have visited 8 churches, seen many coming forward for Baptism in The Holy Spirit. We saw a young Maasai man saved which is worthy of note but many male Maasai men do not want anything that will change their culture. After we had preached and prayed for those in the Maasai Community in the Morogoro Province, Heather was honoured by the women of the Community, when they dressed her in the robe and necklace of a Maasai Elder, afterwards I too was honoured. I was given an Amulet as a sign that we were both now adopted into that Community, and we now have the title of Maasai Zungu – white Maasai.
Last week the devil used a member of the local church to throw a spanner in the works, as regards our current mission trip. We were now without a driver or translator so that meant travelling everywhere by public transport, which meant great financial expense to ourselves.
On Thursday of last week, we set out on a 10-hour bus journey from Dar es Salaam to Dodoma the nation's Capital City. We were there for two night visiting churches there. On Saturday, we moved onto Arusha where we visited three churches. In each church, we prayed over those seeking to receive Baptism in the Holy Spirit
Then on Sunday we travelled by bus to Moshi in the Kilimanjaro, and then in a mini bus we travelled onto a church in Lambo. Before going to the church however we were taken to the base of Mount Kilimanjaro.
As we drove up to the base of Mount Kilimanjaro, we passed a man in the road wandering from side to side of the road and he was also swing his arms all over the place, I was told by the driver that the man was local and he was thought to have mental health issues.
As we passed the man I prayed for him claiming total healing and deliverance and casting the demon or demons to leave him and bound them from harming anyone else.
On the road, back he was walking very calmly and appeared to be in his right mind.
We have already mentioned the money issue but at church today a business woman who had been blessed in a business transaction in Dar es Salaam on Saturday, she drove through the night to get back to Lambo in order to bless us by paying for our transportation costs for Sunday.
After I had finished giving the message on the Full Armour of God, there was such a move of the Holy Spirit. The Holy spirit fell with such a force that the entire church came forwarded to be Baptised with the Holy Spirit including a young man was saved, then he too received Baptism of the Holy Spirit.
As the Holy Spirit filled the church, I received prophetic words for two of the men being prayed for.
Meantime as Heather was praying for the women she suddenly started to sing in the Spirit, and this lasted for a few minutes.
When we left the church to get back to the bus stop, the driver could not unlock the doors, I seemed to amuse passers-by when I lay a hand on the front passenger's door and rebuked whatever influences that was preventing us from catching our bus to Arusha. The doors then unlocked and we moved onto to the bus stop.
As we waited for the bus to take us back to Arusha a business man with an 8-seater Toyota car stopped when he saw 3 bishops in clerical collars so he stopped ask why we were there, he offered all of us including Heather a lift back to Arusha. When he dropped us off I felt that I had to pray for him, his family and his professional life. I then discovered that the man came from the village we had just visited and that he was now a Councillor on the local council and a board of director for a Christian school looking to open a Campus in Arusha.
We were advised later that day, that there were church members in Lambo, still in the church almost an hour after we had left. They were still absorbing all that had taken place there.
Along with Heather, Bishop Solomon Maganga and Bishop David Leamy, we went for a meal and to de-brief after what had just taken place in Lambo.
We then went to our respective Guest Houses. I thought that there was not much else could happen that night, but I was wrong. On Monday morning when the Bishops collected us to take the long journey back to Dar es Salaam, they told us that as they were walking home, they came upon a lady with a baby that was crying. She asked them for prayer because she had lost her two older daughters. Solomon and David prayed for the lady, then they asked if the children knew their mothers Cell phone number. She said yes. The bishops prayed that she would receive a call from the children. As soon as they had stopped praying her children called her to say that they were safe at home.
That was on Sunday 17th, and I still had preaching engagements over the next 9 days, before flying home on Wednesday 27th.
We have seen healings, deliverances, souls saved and many Baptised in the Holy Spirit.
On Friday 22th. September at the end of my sermon on the Gifts of the Holy Spirit, I did not have to make an Altar call, everyone in the building came forward, Pastors and Parishioners alike. People were on the floor crying, some were praying. We had Repentance, we had Deliverance. Everyone received prayer. There was a mighty move of the Holy Spirit again that day.
My last sermon was on Sunday 24th. September, the topic was Joshua Chapter 6, The Walls of Jericho. The Holy Spirit fell in a mighty way before the Praise and Worship team had finished singing. The Praise and Worship Team were flat on the floor as were the Bishops. There was weeping from church members as they lay prostate on the ground.
Heather has been used in a mighty way by the Holy Spirit during this trip, praying for women, singing in the Spirit. We have seen the Holy Spirit moving in a powerful way in various locations and on more than one day.
Church will not seem the same now that we are back home.
Posted by bill mackie.